What a stressful couple of weeks. Both the boat and I pulled through Hurricane Irma without issue, but I used up a whole bottle of Tums.
Since I've become a boat owner in Florida, I get the NOAA hurricane reports sent to my Facebook feed. I watched Irma, with concern, as it moved from the open Atlantic towards the Caribbean. Unfortunately for me, my hands were tied on what to do as my boat was at Olsen Marine Services in Fort Myers Beach getting transmission repairs and other issues resolved.
The Repairs
I blew the main seal of the transmission when I was moving the sailboat from Port Charlotte to Fort Myers, and consequently blew the transmission up. Olsen Marine replaced the transmission with a rebuilt one and also fixed some other items they found such as:
Cracked heat exchanger (like a car radiator) which we fixed by welding. I'll have to replace this with a new one ($1,600) after I get it to Jacksonville
Rusted out exhaust mixing elbow.
Flushed the transmission oil cooler
Replaced a number of hoses that were of marginal condition
All told the stop in Fort Myers ran me a little more than $6,000 in repairs. Olsen Marine was very professional, taking into consideration the upcoming trip to Jacksonville and my budget concerns. Early the week of Hurricane Irma I received the call that Pomaika'i was ready.
Hurricane Irma
Unfortunately, with Hurricane Irma by this time working its way through the leeward islands, I couldn't move the boat to Jacksonville. My mast is too high to make the trip through Lake Okeechobee and across the middle of Florida, so my route was down through the Keys and up the east coast. I had Olsen take all the sails off the boat and prepare it to ride out the hurricane.
The days leading up to Hurricane Irma hitting Florida were stressful. I spent a lot of time on windy.com and Predict Wind (I have the professional package which had a lot of detail) watching its path. One day feeling relieved as it looked like Irma would go up the east coast, the next day I was stressed out as its projected path was up the west coast of Florida. I was prepared to be homeless and have to start over.
Hurricane Irma blew by 20 miles to the east of Pomaika'i as a Category 2 hurricane. Pomaika'i lived up to her name, which means Fortune or Lucky in Hawai'ian, and is undamaged. Thinking I'm going to grab a lottery ticket while I'm running good. Here's a NASA satellite picture of Pomaika'i docked after Hurricane Irma.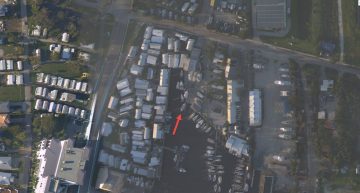 Sailing From Fort Myers To Jacksonville
I've got a plane ticket for Friday morning to move the boat up to Beach Marine in Jacksonville. The total trip is 589 nm and should take just over four days to do, though I'm hoping for a bump from the gulf stream when I get to the Keys.
The first leg, a one day sail, is a straight shot to Marathon and the Seven Mile bridge. I've entered the coordinates into my navigation tablet, and you can see the track in the image below.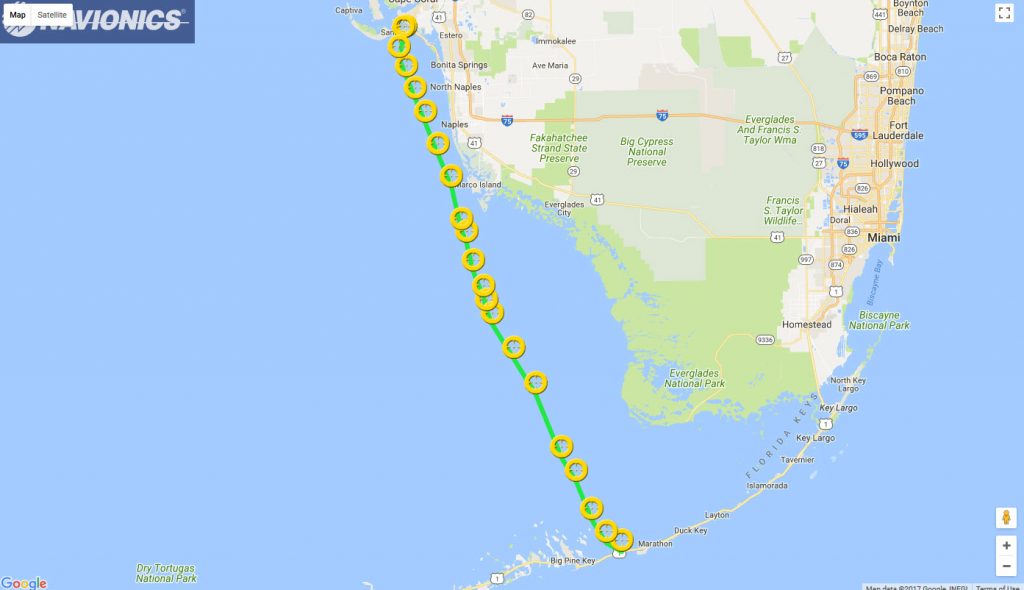 The second leg, a three-day sail, is up the Keys to Miami and then up the east coast to Jacksonville.